ProBax is a system of foam inserts incorporated directly within the seat base.
The inserts are of a specific geometrical design and are placed in a precise location within the existing cushion. This leads to a dramatically improved seated posture resulting in greater comfort levels.
Conventional seats allow the seat occupant to slump into a Kyphotic posture which places the spine in an unnatural "C" shape. This:
removes the ability of the spine to support the weight of the head
leads to neck and back pain,
reduces blood and oxygen flow and thereby decreases concentration levels
increases muscle fatigue, discomfort and fidgeting
reduces the perception of space between seats and seat rows
The ProBax system encourages a more natural "S" shaped curvature to the spine (Lordotic posture), greatly reducing back and neck pain and increasing comfort dramatically.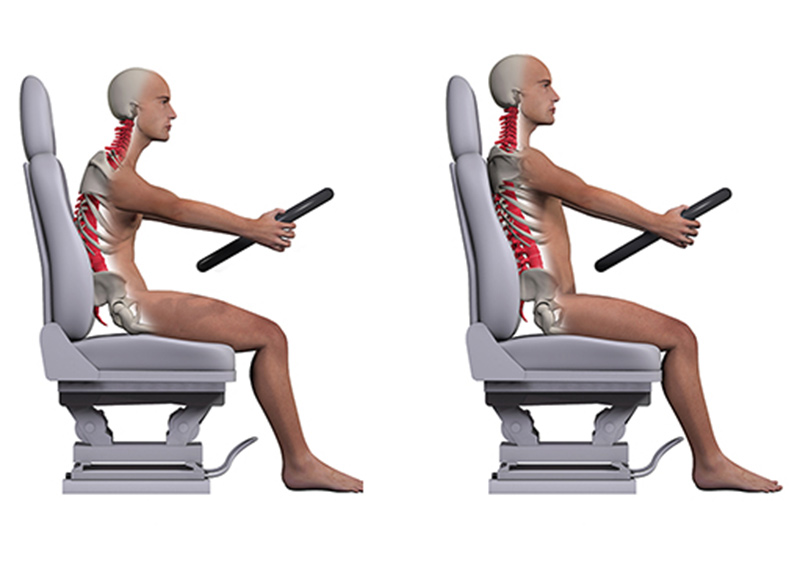 See how ProBax compares to conventional seating
Technology – Transport Applications
ProBax is the epitome of design led affordable ergonomics since it requires no additional mechanisms and involves a marginal on cost; thus, avoiding issues of weight increase and production and warranty implications.
In 2010 NuBax Limited won a coveted Innovation Award from FIRA, the UK's Furniture Industry Association and the world's leading independent furniture research organisation. Seat manufacturers or end customers licensing the ProBax technology may use the Award logo (above right) in any promotional or marketing literature.
An additional benefit of ProBax is an increased cushion life for seats incorporating the technology. By reducing the amount of fidgeting and by holding the seat occupier in a more upright position the durable life of the cushion is increased by up to 20%.
The ProBax technology has its origins in the medical field and evolved out of the need for young children with spinal deformities to adopt better posture when sitting. Since then the applications have been expanded to improve seating comfort in a wide range of environments. The ProBax brand, found on all seats containing the technology, is rapidly becoming synonymous with enhanced seated comfort worldwide.
The ProBax system is currently installed or in testing with a number of well known international customers including the following:
ODEON Cinemas (Europe wide) Ambassador Theatre Group – UK
IBM Auditorium – Heathrow facility
Peabody Orlando Conference Centre – US
Really Useful Group Theatres
RADA
Jujamcyn Theatres
Metropolitan Opera House New York
Baltimore Convention Centre – US
SofiTel Conference Facilities – Europe
Euroseating International
Lotus Cars
Gstaad Racing (Zytec) Racing Team
Dyson Racing Team
Hagie Agricultural Equipment
Gulfstream Business Jets
The Federal Aviation Administration (FAA)
US Post Office
Have a question about this product?
Speak to a specialist today
0845 838 2305